アーティスト
ARTIST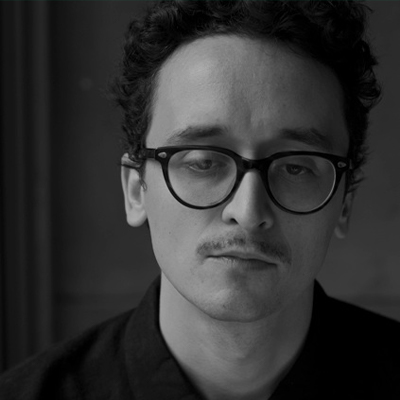 ヨアヒム・バーデンホルスト
(クラリネット

)

ベルギー出身の作曲家、サクソフォン/クラリネット奏者であり、ヨーロッパ、アメリカ、アジアにおける創造的な音楽シーンで、意欲的に演奏・録音を行なうアーティストである。ジャズの即興演奏とニューミュージックを音楽院で数年間学んだ後、ベルギー、アメリカやヨーロッパの各都市を行き来しつつ、世界的に定評のある新しい実験的な音楽アンサンブルやアーティストとのコラボレーションや収録をこなしながら、
Joachim Badenhorst
(Clarinet)
Belgian composer and saxophone/clarinetist Joachim Badenhorst (°1981 Antwerpen) is a performing and recording artist active on the creative music scene in Europe, the US and Asia. After years of conservatory training in jazz improvisation and new music, he has since divided his time between Belgium and cities in the US and Europe, collaborating and recording worldwide with established new and experimental music ensembles and artists, while incessantly exploring the visceral elements of sound. He also leads his own projects ranging from solo improvised performances to Carate Urio Orchestra.
Badenhorst is artistically interested in semantically, conceptually, intrinsically, and formalistically integrating ideas from
続きを見る
音が内蔵する要素を絶え間なく探究している。また、ソロの即興演奏からカラテ・ウリオ・オーケストラの活動まで、自身のプロジェクトも幅広く主導している。
彼は、様々に異なる芸術媒体から得たアイディアを、意味論的に、概念的に、本質的に、形式主義的に、自身の音楽作品へとまとめ上げることに、芸術的な関心を抱いている。また、現代音楽と「エスニック」音楽とに内在する繋がりを明らかにすることにも深い関心を抱いており、トルコや日本の伝統音楽の演奏家とのコラボレーションや、伝統的な中国音楽を再解釈したツアーを中国で行なっている。彼は、音が減衰する位置の特異性や、空間と音との関係について、ますます深く考えようとしている。また、即興と作曲の境界について、あるいは抽象的な音の探求、和声の推移についても、再度の想像を徹底しようとしており、異なる空間に反応し、異なる聴衆を魅了するような、私的で審美的な言語を、試行し続けている。
more read
various different art medias into his musical compositions. He also takes deep interest in revealing the inherent relation between contemporary and "ethnic" musics, having collaborated with traditional musicians from Turkey and Japan, and toured in China with reinterpreted traditional Chinese music.
Increasingly, Badenhorst is contemplating the evanescent site specificity of sound as well as the relation between space and sound. He is also delving into a re-imagination of the boundaries between improvisation and composition, of abstract sound explorations and harmonic passage, and continues to attempt at a personal aesthetic language that interact with different spaces and engage with different audiences.
Joachim Badenhorst is the artistic director of several ensembles in Europe and the U.S. He is the composer and arranger for the seven-piece ensemble Carate Urio Orchestra, the Icelandic Quintet Mógil (with Icelandic folk texts and poetry) and the acoustic chamber new music trio Baloni.
Badenhorst is a member of several groups led by world renowned musicians such as the Han Bennink Trio, Tony Malaby's Novela, Fumio Yasuda group and Kris Davis' Infrasound.
Since 2010, Badenhorst has been developing his solo program consisting of improvisations and compositions for solo acoustic and electro-acoustic wind instruments.
Badenhorst released three critically acclaimed solo albums: 'The Jungle He Told Me' (Smeraldina-Rima 2012), 'Forest//Mori' (Klein 2014) and 'Kitakata' (Santé-Loisirs 2016), 'Typhoon Days' (Klein 2018).
Badenhorst was invited by the Flemish government as representing artist-in- residence in the Comacina Island in Italy (2012) and the Cité Internationale des Arts in Paris (2013). He has received invitations to curate music festivals, and has been artists-in-residence at Dommelhof Neerpelt (2014), Brand! Festival (2015) in Belgium, Ftarri in Tokyo, Japan (2015) and Permeke Library, Antwerp (2018).
Joachim appears on over 50 cd's on internationally acclaimed record labels and founded his own record label KLEIN in 2013.
In 2016, Badenhorst started collaborating with the renowned German record label Winter&Winter. Since then he was featured on 4 W&W albums and performed with label boss Stefan Winter's Poem of a Cell sound installation in Spain, Israel, France and Japan.
Badenhorst was chosen as one of the Rising Star Clarinet of 2013, 2017, 2018, 2019 in the Annual Downbeat Critic's Poll (USA), and was chosen Clarinet Player of the years 2011, 2013 and 2015 by international jazz critics in the Annual Intruso Critics Poll (Argentina).
出演公演
PARTICIPATING PERFORMANCES