Important Notice from Spring Festival in Tokyo 2020 Regarding the Program [updated 3/24]
 In sincere hopes of holding as many of the scheduled performances as possible, Spring Festival in Tokyo 2020 has been diligently making efforts in response to the current new coronavirus (COVID-19) situation. However, in light of the temporary closures of museums where the Festival was to be held, as well as restrictions on overseas travel, and for the well-being of children, please be informed we will be cancelling the following performances.
 Our sincere apologies for the cancellations to ticket-holders who were looking forward to the performances. Please refer to the Festival's official website for details on ticket refunds.
Spring Festival in Tokyo Executive Committee
Cancelled Performances (as of 3/24)

The following performances will be held as scheduled.
And to that end, all staff and involved parties will take all measures necessary to welcome our guests.
Scheduled Performances (as of 3/24)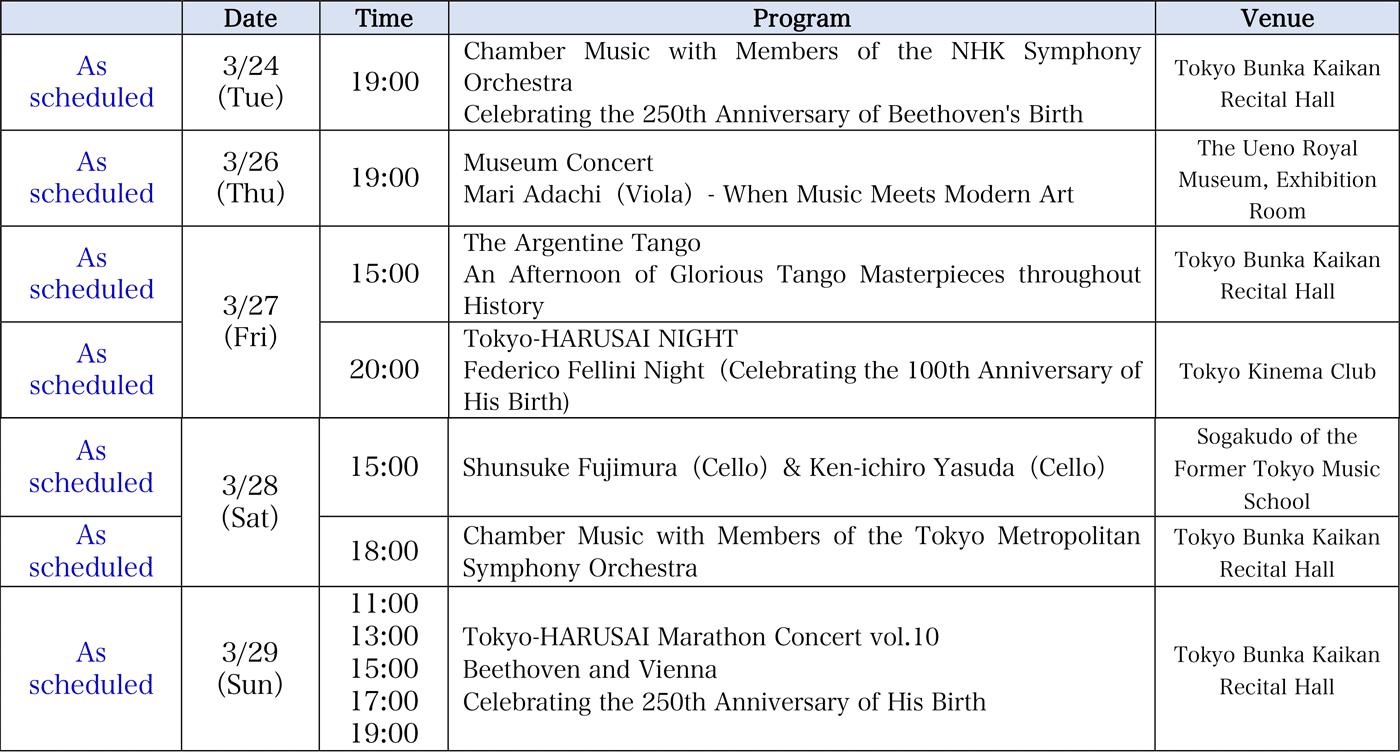 Performances from April
We are currently planning to hold all scheduled performances following starting in April. However, there may be changes in relation to developments with the current situation.
For the most updated information, kindly refer to our official website and social accounts(Facebook、Twitter).
In Regards to the Performances
We thank you for your kind cooperation with regards to the following precautionary measures
against the New Coronavirus (COVID-19)
Spring Festival in Tokyo 2020 will welcome guests with utmost care and attention towards precautionary measures.
We thank you for your kind understanding, cooperation, and consideration for the safety and enjoyment of the guests.
If you are experiencing any of the following, please kindly refrain from coming to the Festival.
Feeling of fatigue
Fever of over 37.5 degrees Celsius, coughs, sneezing, runny nose or any other cold-like symptoms
You have been in close contact with others with the coronavirus
You have returned from a country or area from which entry into Japan is restricted, and has not yet been 14 days
During Performances
Upon entering, please tear your own ticket and give the counterfoil to the staff. Please hold onto your ticket stub.
We will not be passing out any flyers. They will be placed at a designated area for guests to take freely.
The bar area will be closed. Please bring your own beverages as needed.
Please kindly refrain from congregating in the lobby area.
Please wear a mask. If you have symptoms such as coughing or sneezing, cover your mouth with a handkerchief, tissue or the sleeves of your jacket. When audibly showing support for the artists, please wear a mask to avoid dispersal of airborne droplets of fluid. Kindly note we not be providing masks at the venues.
Please refrain from waiting for artists' arrivals/departures near the backstage area or hotels. We will not be holding autograph sessions. Prior appointments will be necessary to meet with artists. Please also refrain from giving gifts to the artists.
Please notify staff if you become ill during a performance.
Please be sure to wash your hands frequently and avoid touching your face (eyes, nose, mouth, etc.) with your hands.
To Prevent Infection
An infrared thermography will be set up at the entrance to check temperatures. Kindly cooperate in cases where we need to ask to check you temperature, and note that you will not be able to enter the venue if you have a fever of above 37.5 degrees Celsius.
Ventilation will be enhanced inside venues, to which end, please be informed the air temperature may be lower.
We will heighten alcohol disinfection of handles and doorknobs at the venues.
Staff will be wearing masks when attending to guests.
All involved parties will adhere to frequently washing and disinfecting hands with alcohol. Temperatures will be checked daily and all efforts will be made to maintain personal health, Staff who has a fever of over 37.5 degrees Celsius or showing any cold symptoms such as coughing will be strictly excused from duties.
Again, we sincerely thank you for your kind understanding and cooperation in preventing the spread of the New Coronavirus.
Ticket Refunds
Please refer to the following for tickets whose performances have been postponed or cancelled.
https://www.tokyo-harusai.com/news_jp/20200228_2/
Tickets will be refunded for those who have concerns or wish to avoid going out and cannot attend the performances.
Details are currently being worked out and will be posted on our website as soon as possible. Please make sure to keep your tickets and so not discard them.
Concerts in Harmony with Cherry Blossoms(free of charge mini concerts)
For Concerts in Harmony with Cherry Blossoms' (free of charge mini concerts) program details, please refer to the following.
https://www.tokyo-harusai.com/sakura/
Postponed/Cancelled Programs (as of March 24, 2020)
*Highlighted in yellow are performances which have additionally been cancelled.