"Spring Festival in Tokyo 2023" Program Revealed
"SPRING FESTIVAL IN TOKYO" is delighted to announce its 2023 program which runs from March 18th (Sat.) to April 16th (Sun.), 2023 at various venues in Ueno, Tokyo.
From operas, orchestras, chamber music to casually enjoyable music on street corners, performed by leading artists from Japan and abroad, the festival decorates the arrival of spring in Tokyo with colorful tones.

The 19th music festival programs will open with the "Italian Opera Academy" by Riccardo Muti and chamber music with members of Berliner Philharmoniker. "Tokyo-HARUSAI Wagner Series" will feature "Die Meistersinger von Nürnberg" with Marek Janowski and NHK Symphony Orchestra, Tokyo, and "Tokyo-HARUSAI Choral Works Series" by Tokyo Metropolitan Symphony Orchestra and Tokyo Opera Singers will present "Ein Deutsches Requiem" with conductor Finnegan Downie Dear, winner of the Mahler Competition 2020. "Tokyo-HARUSAI Puccini Series" with Yomiuri Nippon Symphony Orchestra will present "Tosca", "Wagner for Children" in cooperation with the Bayreuth Festival, chamber music and recitals with world-wide musicians, museum concerts are listed. "Concerts in Harmony with Cherry Blossoms" will be held in Ueno Park, which will celebrate the 150th anniversary of the park's opening in 2023.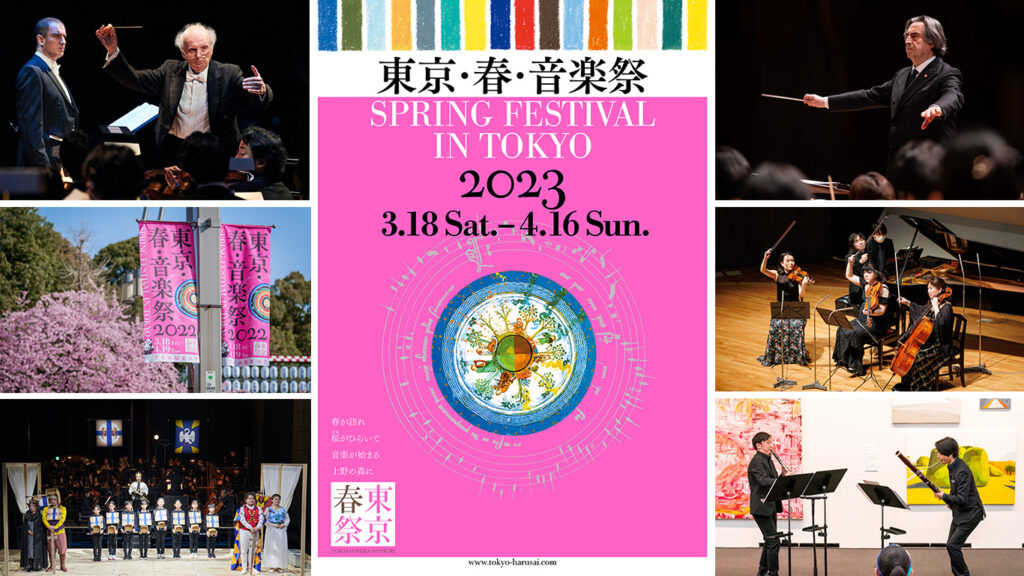 Highlights of "Spring Festival in Tokyo 2023"
Artists who dominate the world stage gather in Tokyo in spring
Numerous, unique concert projects will be held: "Tokyo-HARUSAI Lieder Series", "The World of Benjamin Britten", "Tokyo-HARUSAI Choral Works Series", "Tokyo-HARUSAI Marathon Concert", and "Tokyo-HARUSAI Discovery Series".
Museum Concerts: The Festival holds chamber music concerts in museums in Ueno Park, which is known for its historical and artistic role in Japan. Surrounded by fine arts and historical artifacts, the audience can enjoy live performances closer to the musicians and can experience music in a different atmosphere than in concert halls.
A fantastic program of events for children "Tokyo-HARUSAI for Kids" will be held.
Ueno Park Celebrates 150th Anniversary! Vibrant events such as "Concerts in Harmony with Cherry Blossoms" are back in Ueno!
The Festival will be live streaming most of the programs. (*viewing fee required)
Tickets will be sold from November 12 [Sat.], 2022 at 10:00
For more details of each programs, please see the link below.
Connect with us:

Photo:Koji Iida, Naoya Ikegami, Taira Tairadate, Yusuke Masuda