Information 2017/10/26
Spring Festival in Tokyo -Tokyo Opera Nomori 2018- Program Revealed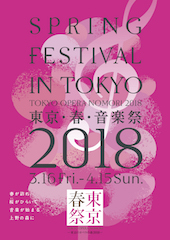 "SPRING FESTIVAL IN TOKYO -Tokyo Opera Nomori 2018-" (March 16th to April 15th, 2018) is delighted to announce its 2018 program.
Festival highlights include:
Tokyo-HARUSAI Wagner Series is to stage Richard Wagner's magnificent romantic opera Lohengrin. Maestro Ulf Schirmer conducts NHK Symphony Orchestra, starring Klaus Florian Vogt in the title role of Lohengrin.
The Festival's signature series "Tokyo-HARUSAI Choral Works Series", "Tokyo-HARUSAI Lieder Series", and the series of the concerts featuring Gioachino Rossini who was almost as famous for being an epicure as a composer, commemorating the 150th anniversary of his death.
Other highlights include museum concerts in Ueno park, and "Tokyo-HARUSAI for Kids" a fantastic program of events for children.
The 2018 Festival will be one rich in quality and diversity, surely to celebrate the arrival of spring.
The information for the Festival's popular series of FREE mini concerts "Concerts in Harmony with Cherry Blossoms" will be announced at a later date.
The Box Office opens on 26th November 2017 at 10am.
We hope you will enjoy the upcoming spring with beautiful music and blooming cherry blossoms in Ueno, Tokyo.
◎The spring 2018 concert calendar:
http://www.tokyo-harusai.com/program_e/program_e_list.html
◎Please read more information about the box office:
http://www.tokyo-harusai.com/ticket_e/index.html